POP display: think
materials

!


Wood, metal, plastic, glass, ... the materials of POP display influence shoppers in many ways. When you are considering a POP display solution you need to think about the suitability of materials to use.

There are many different factors to consider when choosing the best materials to use, let's take a look at them ...
POP display made from wood, leather, glass and plastics
Flex your creative muscles
To succeed in the hubbub of shopping, choice of materials allows to highlight your brand among others, and to anchor memorable images in the minds of your customers!

Your display is the expression of your creative imagination. Materials can deliver a desired visual experience or bring a touch of authenticity. They can convey quality, value, emotions and meaning.

Some materials represent wealth, extravagance or power. Others indulgence and desire, or purity and eco-friendly. A detail of the packaging can be inspiring to add to the overall look.

A well-chosen material mix, accorded with the DNA of the brand, immerses the shopper in the product universe. Whether the product is medium, high-end or luxury, choice of materials and colors make displays effective. These details create a coherent image to the target audience.
Before you move on
We are a team of point-of-purchase strategists, industrial designers and production specialists. With over 20 years in retail marketing, we combine imagination and technical know-how to tackle our clients' point-of-purchase challenges with multi-material POP solutions, display and merchandising materials for brands and retail, 100% custom made.
Cost
The general perception is that the more durable a material is the more it tends to cost – with cardboard usually the cheapest, followed by plastic, wood, and then metal. The reality is more complex, as it depends upon the function and desired lifetime, what production processes it need to go through, how easy it is to assemble, ...

When calculating expenses look first at what is needed according to the creative briefing, and not just the cost associated with the raw materials.
Desired lifetime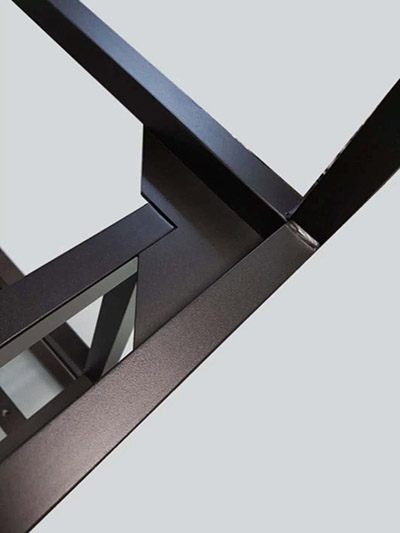 The key being distinctive, imaginative choice of materials will help you to meet a number of less emotional, more technical objectives, such as how long you need a display for, without any major repairs being necessary.

Temporary or promotional POP displays, sometimes referred to as cardboard displays, are used as part of short-term events, such as weekly sales promotions. They wear down relatively quickly and are easily damaged. They are designed to present the promotion and dramatize the offer over short periods of time.

More durable materials are chosen for permanent POP display. Plastic lasts long, but does eventually fade and crack. Wood is a versatile material that can be used for either semi-permanent or permanent POP displays. Metal displays can last for several years and are suitable for long-term instore installations.
Desired use, strength and weight constraints of the products being presented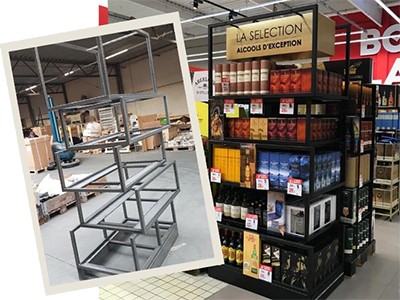 Always aiming to reduce materials used, and hence reduce cost, materials choice is governed also by the capacity of a POP display to perform the service functions for which it is designed. The weight of the products presented should be carefully considered when developing design, structural strength, assembly and materials.

Where possible, provide your POP display supplier with physical products to trial on prototypes. When products are on the heavier side, we leave products on the prototype for many days, to ensure it holds the weight!

Also, it is vital the shopper can confidently remove the product to purchase from a display, still in good shape, also after being replenished many times.
Ease of assembly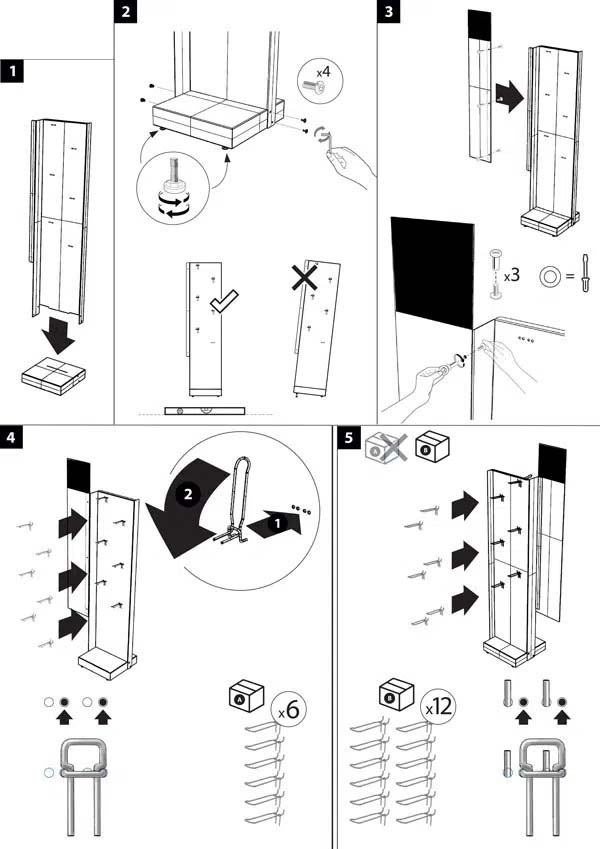 By flat-packaging POP display, considerable savings can be made on logistics costs (storage, transport, ...). We provide them with clear assembly instructions.

Is assembly performed by shop associates or experienced merchandisers? Some materials are better adapted to different installation conditions.

Cardboard displays are easy to damage and require careful assembly. By comparison, plastic is harder to damage. To assemble wood properly, a certain handiness is required. Metal has its own difficulties when it comes to ease of assembly. While very hard to damage, metal displays often require more effort to assemble. Displays made of wood and metal are also quite heavy, which can increase transport costs.
Shopfloor context
A window display is not to be built to resist intensive usage. However, on a sunny day some windows reach temperatures up to 100 degrees, putting stress on plastics, assemblies, prints and colors.

The conditions of the targeted shop, the intensity of usage and the expected level of surveillance, should be taking into consideration when selecting materials.

The resistance of materials against moist or rain could be considered for materials that are to live outside.
Engineering
Not all materials are suitable to be engineered for different display requirements. However, a mix of different materials can often be used together to create a solution that fits your requirements, such as a metal frame providing strength for plastic shelves and message areas.
Compliance with standards and regulations
Some shopping malls, especially in airport terminals, have developed safety strategies for materials to be used in presentation materials. The more important ones respond to the safety regulations for electrical installations and to the EU-classification standard 13501-1, ranking materials in 7 classes with regard to their fire behavior.
Eco-design and end-of-life
Although it does not compromise in any way on commercial effectiveness nor desirability of the initiatives, eco-design aims to minimise environmental impact.

The effort of the POP industry has led to a number of operational recommendations for eco-design of POP materials:


Reduce the quantity of materials for the same efficiency
Opt for recycled and recyclable materials
Consider environmental impacts of materials
Take into account shelf life extension and repair
Include dismantling instructions to facilitate sorting and recycling
Share services for recovery of POP displays
What materials are used in permanent POP display ?
From the early stage, your POP producer will guide you through the materials selection. These are the most used materials for permanenet POP display:

All types of metals, known for their toughness and durability, are used to create solid, sometimes invisible, structures. Epoxy finishing, available in different textures, are used to protect and beautify these parts.

PMMA, PS, PC, ABS, PE, PET, etc, are synthetic materials with different characteristics of resistance, strength and transparency. They come in all types of finish: colorless, translucid, diffusing, frosted, mat, shiny or satin, … to mention just a few.

Wood is used for its solidity but also for its luxury and warm appearance. It can be tainted, varnished or coated with a décor layer, such as foil, melamine, laminate or veneer.



If you have a specific need or if you want a POP with materials meeting all your requirements, reach out to set up a free consultation. We will find the best solution for you.